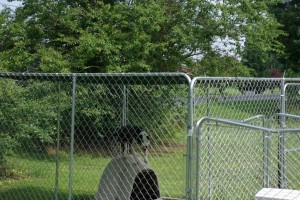 Caveat: I am NOT an animal expert. I don't have a dog, I have cats.
Dogs have around 15,000 years of selective breeding behind them. Of course they can eat our foods… or most of them! Despite what the premium brands tell you, a dog is not a wolf and it doesn't require the same nutrients as a wolf. Dogs can eat many vegetables and they seem to enjoy them.
There's an article on the Humane society site which lists human foods that are harmful to dogs. I would not feed a dog chocolate or anything from the onion family.
Foods potentially poisonous to pets : The Humane Society of the United States
There are a number of good books on feeding dogs (and cats) homemade or even raw foods. Dr. Pitcairn's Complete Guide to Natural Health for Dogs & Cats
has valuable information on the nutritional needs of both dogs and cats, and recipes for healthful meals you can make in batches. The book even has recipes for supplements you can spoon onto commercial dog or cat foods.