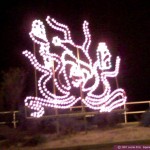 I thought you all might enjoy the picture I took last weekend. It's a squid christmas light display. Click the picture for the full-sized picture.
Ocean City, MD has this huge display of different sea-themed Christmas decorations in a parking lot at the south end of the island. The squid – okay, well, it's probably an octopus – is taller than I am, maybe 8 or 10 ft tall. There are about 30 of these things around the parking lot. Which is really odd because the parking lot is closed for the season. The whole town is closed for the season. There's just dark motels and these things.
Squid.us has Cephalopodmas images. Check it out.