Mr. X was asking about his favorite DOS-based Doubles Pinochle program again. I was unable to get it running under either Win2000 Pro or WinXP Pro SP2 – it looked as if it were grabbing the fonts with the wrong character size. I had given up on it, but Mr. X is really into pinochle.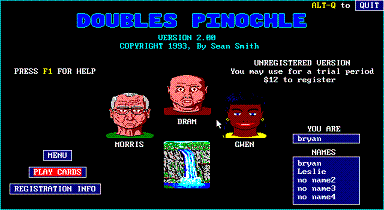 So here it is, 3AM, and DPIN is running under Windows 98 in a VMWare virtual machine. If I didn't have bouts of insomnia I'd never get anything important done!
Incidentally, Kubrick looks hideous in a 640x480x16 window. But it was usable enough to enable me to write the first draft of this post. Good deal.